This rifle started as a concept in my mind, and I didn't know initially exactly how to execute it. I always admired the forearms on Boss O/U shotguns with their long forearm metal and wondered if this could somehow be applied to a falling block rifle. The engraver Lee Griffiths is commissioned to engrave this rifle and in discussions we both agreed that due to the small size of this rifle, it would be nice to have additional surfaces for engraving.

It started off with a small Hagn falling block action, the "Mini Max", as Martin Hagn calls it. A custom turned barrel, chambered in .218 Bee, was installed. A quarter rib with Express sights, custom front sight ramp and a sling swivel base was added to the barrel.


The scope chosen for this rifle is a Leupold Alaskan 4 power scope. These scopes are unfortunately discontinued, but sometimes they still can be found on eBay or other places. It has a steel tube and is small in size, very appropriate for a light rifle. The tube diameter is 7/8″, so I had to machine custom scope rings from bar stock in order to mount the scope to the quarter rib.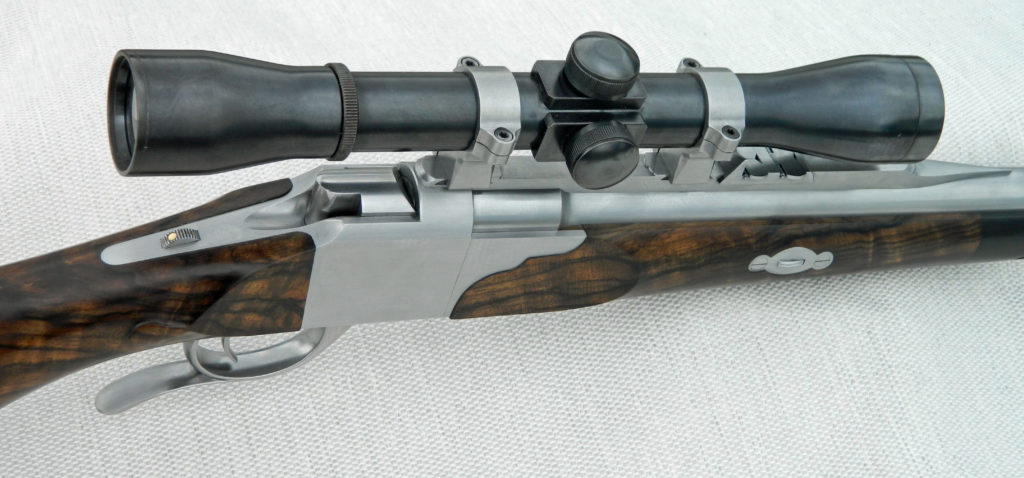 Before the stocking I machined a forearm metal from solid bar stock and fit it to the barreled action. It then was inlet and screwed onto the forearm. Next the forearm was inlet and shaped.
The forearm tip is made out of horn. The butt stock has a steel butt plate and a custom made sling swivel stud. The wood is a high grade piece of Turkish walnut.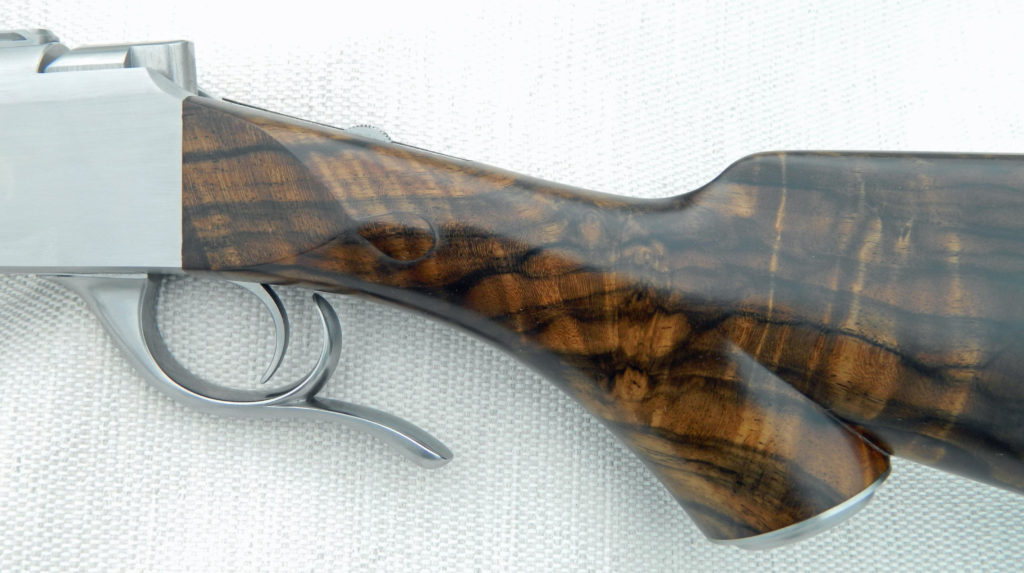 At present I'm not sure how the checkering will be executed. Mr. Griffiths will do some stock carving for our client. I will work with him and will cut the checkering of the grip and forearm as required. I believe this rifle is a good representation of my work. I try to incorporated interesting details into my rifles, without them screaming for attention. Always a challenge with small rifles like this is to get the proportions pleasing and at the same time ensure comfortable use with the clients dimensions in mind. This I find is much easier to achieve with larger rifles.