Wood vs Weather
by Mike @ Cariboo Lake, Alaska
"Heinous" is the only way to describe the weather during Alaska's hunting seasons.
Oh, it is the land of milk and honey during the cruise ship, summer months. However, as those of you who have hunted up here know; "if you went to Alaska and did not wear hip boots, you did not go to Alaska." A hunt on Kodiak, the Alaska Peninsula, or in the Yakutat area, will develop a keen desire to include a photo of the sun in your hunting kit.
The terrain is equally inhospitable. The summer slopes all look so garden pleasant with their pastels. However, every experienced hunter knows only distance can inspire such enchantment. To the cultured eye of every hunter/trapper such landscape, with it's ten-foot alders, foretell of unspeakably wicked travel.
Alaska is tough on the body, and the equipment. So, it would seem only prudent to use a composite stock right? Not so fast flat-lander.
It has been my experience that a fine piece of walnut, on a high-grade gun is a great deal tougher than the credit we are inclined to give it. This is perfect news for those of us who have a difficult time reaching past one of our favorites, in the gun safe, to grab a plastic stock rifle with all the metal luster of a frying pan.
It is true that if you treat a firearm like a shovel, it will look like a shovel. In this area of misbehaver Alaska guides, pridefully excel. Many are convinced there is some sort of macho scale of respect earned by having a neglected rifle.
When it comes to an earned score on the manly meter it is hard to surpass a Marine. The Marines are as proud of how they care for their rifles as they are of their reputations as marksmen. My father was not only a Marine but was wounded in a Banzai attack on Iwo Jima. He instilled in me a discipline that firearm care came before any personal comforts in camp, or at home. He also schooled me to use the best gear (or tools) I could afford.
Rich Grozik, author of Game Guns, penned it quite correctly, "We do not really own high grade guns, we are only their curator for our lifetime." Yet these are built to be used.
We tend to discount the ability of a beautifully made rifle to deliver superb performance in the worst of environments. At the same time, we over estimate the required care to keep up their exquisite appearance. It really does not entail much more effort to hunt with something that you truly enjoy owning.
If you are thinking of having a custom rifle made for those hunts of a lifetime, whatever I could say to persuade you to use wood, consider said. A skillful gunsmith, such as Reto Buehler, will deliver the protection you desire on a tack driving, elegant rifle.
The only exception to this is the English fancy to cover recoil pads with leather. It is a hopeless cause to protect those in Alaska.
This Buehler CSA custom 7MM Mauser is my go-to caribou rifle. If the weather is bad, it does not get the day off.

Rifle transportation Alaska style; inside this case is a Deluxe grade Holland & Holland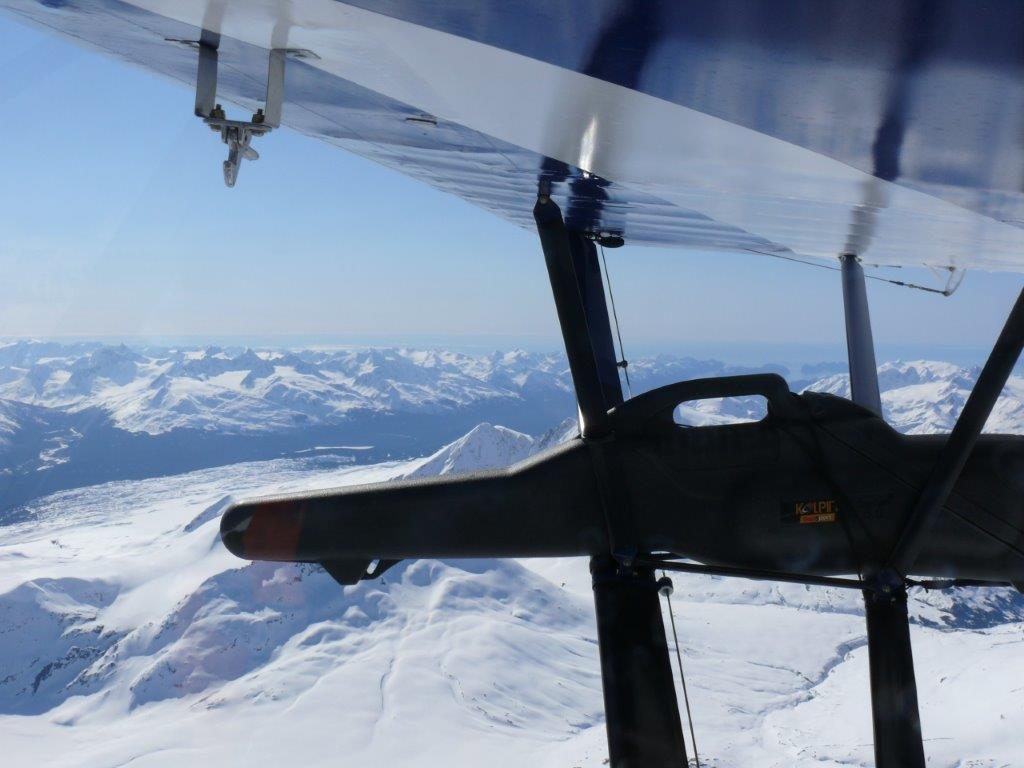 Additional note:
Thank you very much for your contribution, Mike!! I would like to invite my colleagues in the gun trade and my customers to contribute to this blog. Feel free to submit articles to me for consideration.
In the 90's I had the great opportunity to work for Corlane Sporting Goods in British Columbia. At that time I was amazed how many British Lee Enfield rifles and Winchester 94's where still in service up North. Most of those guns where used hard and neglected, yet they where still doing the job.